Blog > Why Is Luxury Vinyl Tile Flooring So Popular and Will It Work For You?
Why Is Luxury Vinyl Tile Flooring So Popular and Will It Work For You?
Sunday, April 24, 2022 12:00 AM Luxury vinyl tile, LVT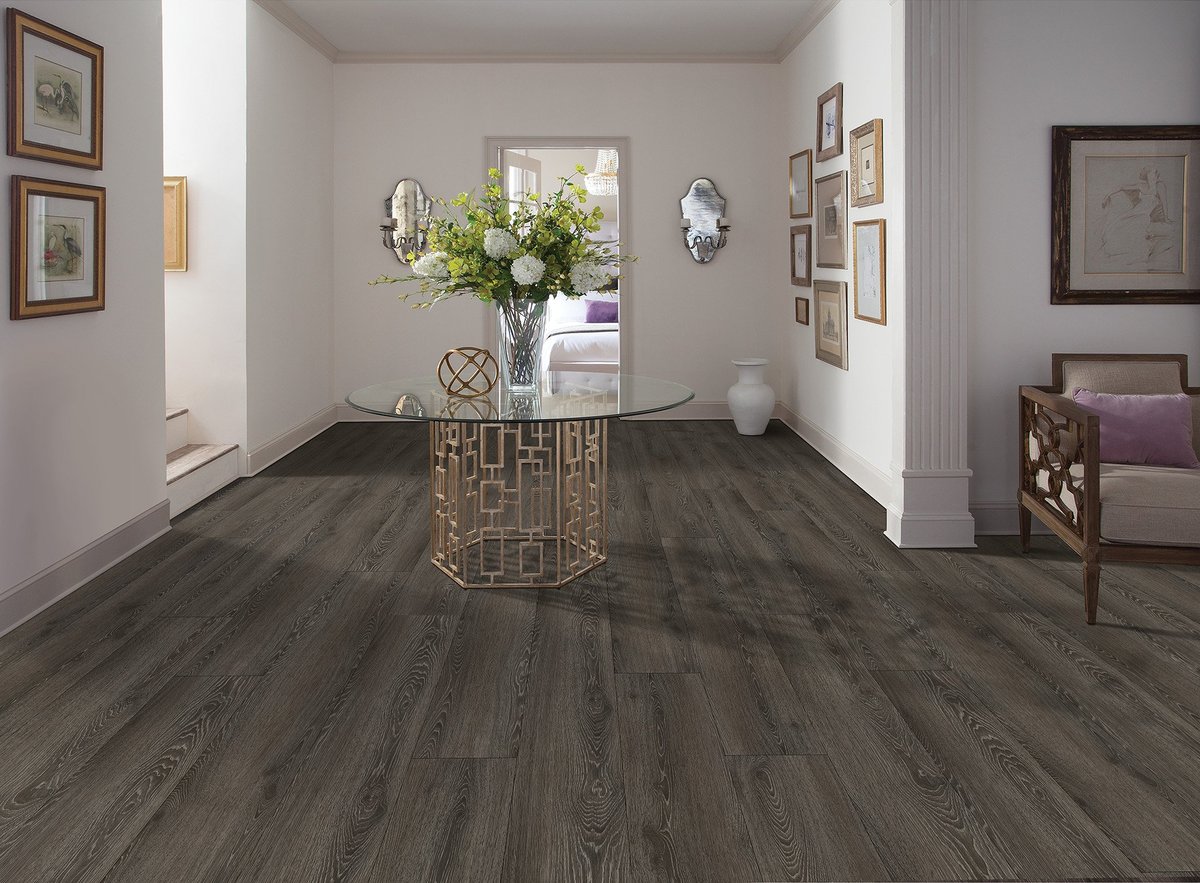 Why Is Luxury Vinyl Tile Flooring So Popular and Will It Work For You?

Luxury vinyl flooring has become more popular among homeowners to provide a beautiful, realistic look. Luxury vinyl flooring is very different from the sheet vinyl you may be familiar with and has many benefits. Read on to discover the benefits of luxury vinyl tile flooring and luxury vinyl plank flooring and find out the difference between the two to determine which is better for your new flooring project — plus, a few expert care and maintenance tips.


The Benefits of Luxury Vinyl Tile Flooring and Luxury Vinyl Plank Flooring
Waterproof
Luxury vinyl flooring is made with waterproof materials that can handle water immersion. The flooring can be dried and reused without damage — primarily if it's the type of vinyl that is installed as floating-click and not glued down. The adhesive used with glue-down vinyl flooring may not be waterproof, so if you decide to choose that option, be sure to check with the manufacturer. Luxury vinyl flooring that doesn't require glue is perfect for water-prone locations like bathrooms, kitchens, or basements.


Affordable
Luxury vinyl flooring offers excellent value due to its long shelf-life — especially thicker flooring featuring a substantial protective wear layer. Luxury vinyl usually costs less than ceramic tile or hardwood flooring.


Durable
Luxury vinyl tile flooring and luxury vinyl plank flooring are usually designed to handle heavy wear and tear and moisture, offering a 25-30-year lifetime with proper installation and care. However, poor installation can negatively impact the lifespan of your luxury vinyl. Floors USA's installation experts have decades of experience properly installing luxury vinyl flooring, so customers can rely on their floors for years to come. Luxury vinyl's durability makes it a popular choice for kitchens, laundry rooms, bathrooms, and more.


Easy to Clean
This flooring is convenient to keep clean without much elbow grease. Scroll down to find care and cleaning tips to keep your luxury vinyl floors lasting beautifully.


What Is the Difference Between Luxury Vinyl Tile Flooring and Luxury Vinyl Plank Flooring?
Luxury vinyl plank flooring comes in a plank shape, often mimicking the look of solid hardwood with realistic details like embossing or scraping. Luxury vinyl tile flooring is shaped like tiles and often looks like ceramic or natural stone tiles; they come in various sizes to accommodate many floor plans and patterns.

Luxury vinyl plank flooring and luxury vinyl tile flooring both are made of several layers, which is the main differentiator between luxury vinyl and sheet vinyl:


Both luxury vinyl tile flooring and luxury vinyl plank flooring come with either floating-click installation (the flooring clicks together and floats over the subfloor) or glue-down installation (it is glued or taped directly onto the subfloor.) When choosing an installation style, the most important thing to consider is that glue-down options may lose their water resistance capabilities due to the adhesive underneath. If used in an area where water damage is unlikely, glue-down luxury vinyl flooring can be more durable for large, high-traffic areas. Glue-down installation is a more challenging, technical type of installation, so you'll want to enlist expert installers with lots of experience, like the floor technicians at Floors USA.

Another option you may encounter is flexible vs. rigid core. Both luxury vinyl tiles and luxury vinyl planks may come in these two options. The difference is simple: flexible-core has thinner layers, so the planks or tiles are bendable, while rigid-core offers more stability, durability, and often a better warranty. However, because of its reliability, some brands only offer rigid-core and don't make flexible-core products at all.


Care Tips for Your Luxury Vinyl Tile Flooring or Luxury Vinyl Plank Flooring
The lifetime of your luxury vinyl flooring depends on how well it is cared for and maintained. Here are a few tips to get the longest life out of your luxury vinyl tile or luxury vinyl plank:


A Large Selection of Luxury Vinyl Plank Flooring and Luxury Vinyl Tile Flooring
With extensive amounts of luxury vinyl in stock and much more available through special order, you are certain to find the right flooring for you at Floors USA. Customer satisfaction is our number one priority, so our staff will work with you to ensure you are 100% satisfied with your purchase. Get the perfect luxury vinyl flooring for your home – make an appointment today. 
Wear layer:

 A transparent and thin film that protects the imprinted design below, keeping water away and resisting scratches.

Imprinted design layer:

 This layer features the design and texture that gives the flooring its distinctive look.

Core layer:

 The bottom layer is a rigid core that acts as the foundation for the flooring.

Use A Doormat

Prevent your flooring from getting dirty by catching dirt at the door with a well-made doormat. Consider making your home a "no-shoes" area to avoid bringing in pebbles and other debris that may scratch your floors.

Sweep Frequently

Sweeping as often as you can has the same effect as the doormat, helping to prevent tough stains and deep scratches.

Add Floor Protectors to Furniture and Appliances

Moving furniture or appliances across the floor can lead to deep scratches, which can allow moisture to reach the inner layers of the floor. Prevent these by adding felt or rubber floor protectors to your heavy objects.

Never Steam Clean

Using a steam mop might be tempting, but you should never use steam on luxury vinyl. While vinyl tends to be water-resistant, it cannot resist the damaging effects of hot steam. Like all plastics, luxury vinyl flooring can become warped when exposed to high temperatures, and the steam can easily damage the protective top layer, leading to even more damage later.

Never Use Ammonia or Bleach

Most floor cleaners contain ammonia, but this is dangerous for vinyl — it can damage the protective layer as well as the inner layers of flooring. Bleach is also common but can corrode the vinyl finish.