Blog > Is Vinyl Plank Flooring Right for You? Discover the Pros and Cons
Is Vinyl Plank Flooring Right for You? Discover the Pros and Cons
Wednesday, August 24, 2022 10:27 AM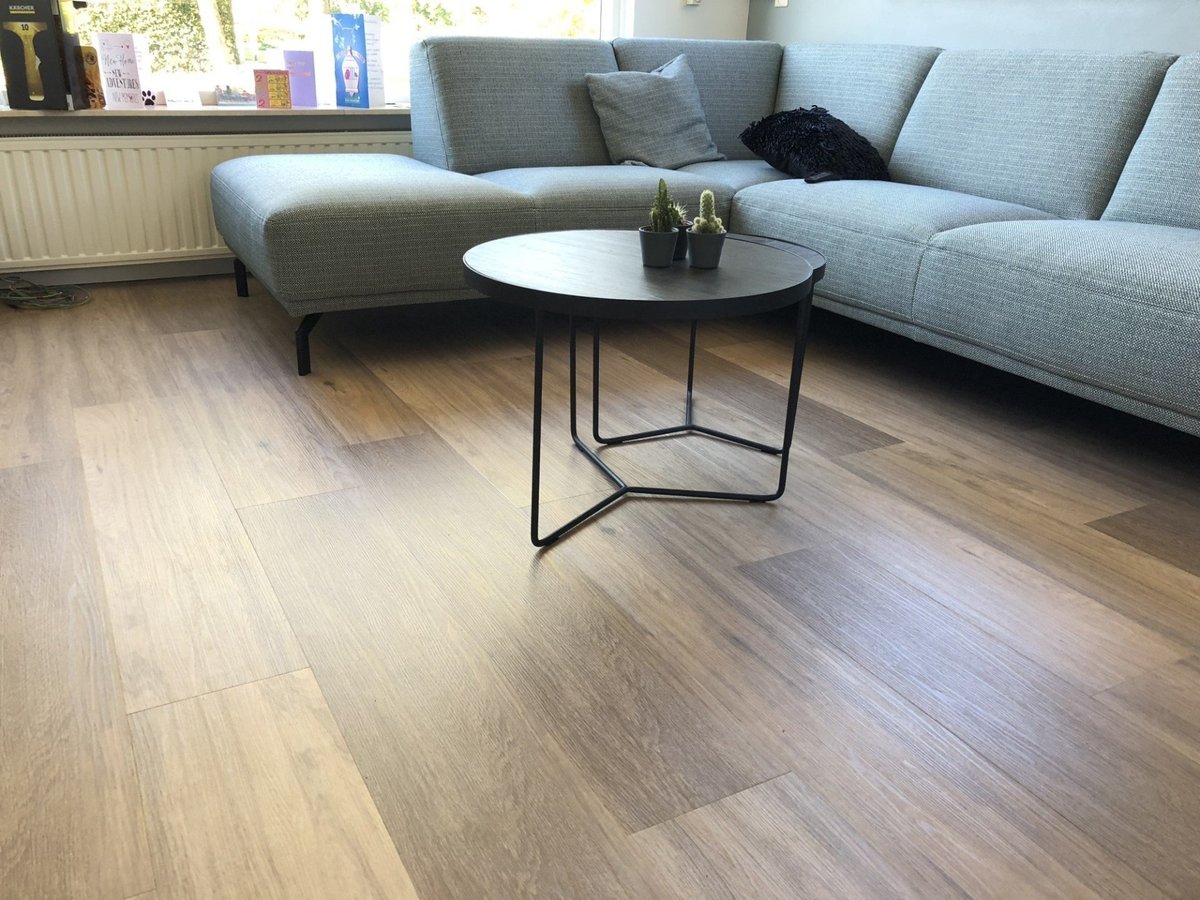 Vinyl plank flooring, also known as luxury vinyl flooring (LVF or LVP), has seen a rise in popularity in recent years due to its improved construction and more realistic look. It is a much thicker and more rigid flooring than flexible sheet vinyl, fabricated in long planks that most often mimic the look of hardwood or stone.
While sheet vinyl has a printed top layer covered by a transparent wear layer, vinyl plank flooring includes four different layers:


Keep reading to find out whether vinyl plank flooring is a good choice for you, whether vinyl plank flooring is better than laminate, how long it will last, how to choose a high-quality option, and how to maintain your vinyl flooring properly.


A top layer of aluminum oxide to help protect against light scratching and scuffs.
A transparent film that protects against ripping and tearing.
A design layer with a photo-realistic print of wood or stone.
A back layer of rigid vinyl composes almost 90% of the total thickness.
Is Vinyl Plank Flooring a Good Choice for You?
Consider some of the characteristics of vinyl plank flooring to determine if it's a good fit for your project:


Durable
Vinyl plank flooring is usually designed to handle moderate traffic and humidity, offering a 10-to-20-year lifetime with proper installation and care. However, poor installation can negatively impact the lifespan of your vinyl plank. Floors USA's installation experts have decades of experience properly installing vinyl flooring, so customers can rely on their floors for years to come. Vinyl plank flooring's durability makes it a popular choice for kitchens, laundry rooms, bathrooms, and more.


Easy to Clean
This flooring is convenient to keep clean without much elbow grease. Scroll down to find care and cleaning tips to keep your vinyl plank flooring lasting beautifully.


Water-Resistant
Vinyl plank flooring is made with water-resistant materials that can withstand humidity, primarily if the vinyl is installed as click-lock and not glued down. The adhesive used with glue-down vinyl flooring may not be waterproof, so if you choose that option, check with the manufacturer. Vinyl plank flooring that doesn't require glue is perfect for water-prone locations like bathrooms, kitchens, or basements. Our in-store sales associates are experts and can help ensure you choose the best option for any area requiring water resistance.


Affordable
Vinyl plank flooring offers excellent value due to its long shelf-life — especially thicker flooring featuring a substantial protective wear layer. Luxury vinyl usually costs less than ceramic tile or hardwood flooring.


Style Options
Vinyl plank flooring comes in hundreds of colors and patterns, and most mimic hardwood flooring incredibly effectively. You can also get the look of natural stone at a more affordable price. Luxury vinyl plank flooring tends to have deeper embossing and better graphics than traditional sheet vinyl. They even make some high-dollar versions with heavily antiqued or distressed embossing to look like hand-scraped wood, including nail holes. Also, because it's common for vinyl plank flooring to be installed as interlocking pieces rather than glued down, homeowners can easily change the design of their flooring later.


Is Vinyl Plank Flooring Better Than Laminate?
Both laminate and vinyl plank flooring often mimic hardwood floors, so shoppers usually want to know which is better for their needs. Vinyl plank flooring usually offers faster installation time because it can be cut with a utility knife, while laminate requires a power saw for cutting. Vinyl planks are also usually softer than laminate, with less noise and more comfort underfoot. Vinyl flooring is also often more water-resistant than laminate flooring.


How Long Will Vinyl Plank Flooring Last?
Vinyl plank flooring is very durable. With professional installation and proper maintenance and care, it can last 10-20 years —sometimes more.


How to Choose High-Quality Vinyl Plank Flooring
When evaluating the quality of vinyl plank flooring, consider the thickness of the wear layer, the texture, the finish, and its level of water resistance.


Wear Layer
This should be the thickest layer of the vinyl plank to protect the printed pattern and core. Usually, thicker wear layers mean better overall quality.


Texture
A more textured surface is good for durability but also helps reduce the risk of slips and falls.


Finish
If the area has low traffic, stays dry, and is easy to clean, a urethane or no-wax finish will work for you. However, choose enhanced urethane for a more high-gloss look and the most durable exterior surface.


Water-Resistance
Look for the most water-resistant vinyl plank flooring for basements, kitchens, entryways, laundry rooms, and bathrooms.


How to Care for Your Vinyl Plank Flooring
The lifetime of your luxury vinyl flooring depends on how well it is cared for and maintained. Here are a few tips to get the longest life out of your vinyl flooring:


Use A Doormat

Prevent your flooring from getting dirty by catching dirt at the door with a well-made doormat. Consider making your home a "no-shoes" area to avoid bringing in pebbles and other debris that may scratch your floors.

Sweep Frequently

Sweeping as often as you can has the same effect as the doormat, helping to prevent tough stains and deep scratches.

Add Floor Protectors to Furniture and Appliances

Moving furniture or appliances across the floor can lead to deep scratches, allowing moisture to reach the inner layers of the floor. Prevent these by adding felt or rubber floor protectors to your heavy objects.

Never Steam Clean

Using a steam mop might be tempting, but you should never use steam on luxury vinyl. While vinyl tends to be water-resistant, it cannot resist the damaging effects of hot steam. Like all plastics, luxury vinyl flooring can become warped when exposed to high temperatures, and the steam can easily damage the protective top layer, leading to even more damage later.

Never Use Ammonia or Bleach

Most floor cleaners contain ammonia, but this is dangerous for vinyl — it can damage the protective layer and the inner layers of flooring. Bleach is also common but can corrode the vinyl finish.
A Large Selection of Luxury Vinyl Plank Flooring and Luxury Vinyl Tile Flooring
With extensive amounts of luxury vinyl in stock and much more available through special order, you are certain to find the right flooring for you at Floors USA. Customer satisfaction is our number one priority, so our staff will work with you to ensure you are 100% satisfied with your purchase. Don't wait — make an appointment by August 31, 2022 to save 10% on items in stock and 5% on special orders during our Summer Savings Days sale