Blog > Classic But Never Outdated: Types of Floor Tile
Classic But Never Outdated: Types of Floor Tile
Tuesday, June 28, 2022 12:39 PM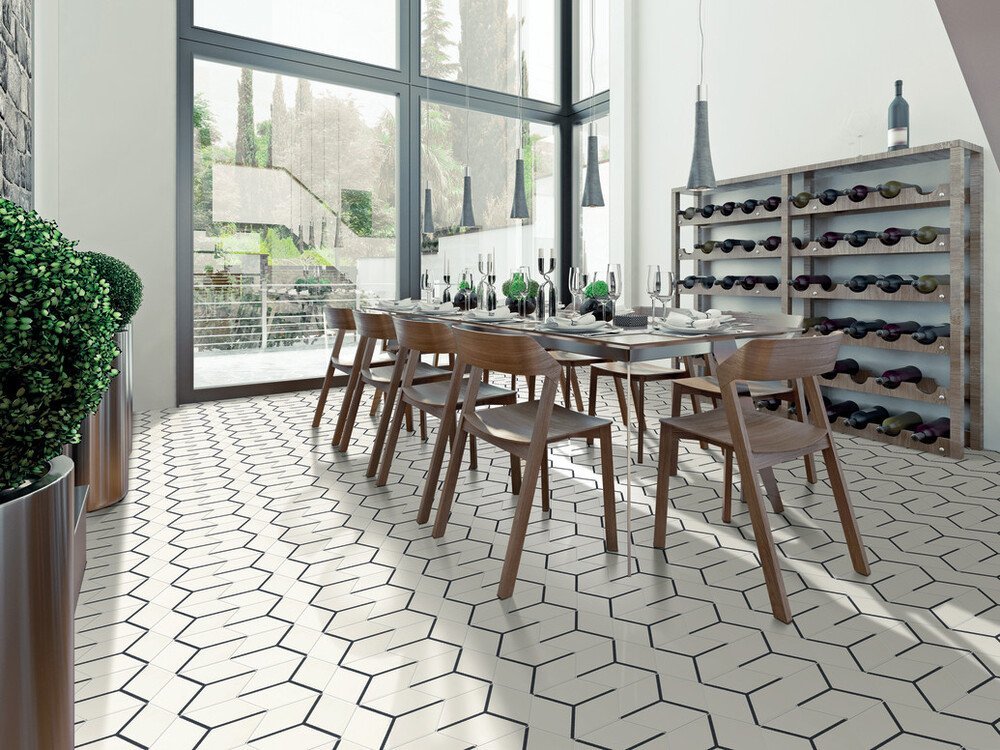 Tile flooring is an excellent choice for many applications, mainly because there are so many types of floor tiles offering various options to suit the needs of a specific space. In addition, floor tiles are often environmentally friendly, extremely long-lasting, hypoallergenic, and low-maintenance — not to mention the wide variety of style options.

Interested in tile and want to learn more? Keep reading to learn more about the type of floor tile available and what to consider when choosing.


How many types of floor tile are available?
There are two main categories of floor tiles and several different types of floor tiles within those
categories.


Man-Made Tiles: Ceramic, Porcelain, Cement
Ceramic is versatile, affordable, and durable. Appropriate for a wide range of applications, ceramic is a very popular type of floor tile. Porcelain, another popular choice, is a clay ceramic floor tile made of a higher ratio of silica to quartz. It is also fired at a higher temperature and is often more durable than red clay ceramic tiles. You can find a large variety of colors and patterns in porcelain, and you can even find porcelain that is glazed and textured to look like hardwood, marble, or brick.

Cement tiles have been around for a long time and are still very popular in modern and industrial design spaces. You may be surprised by the number of patterns and color choices available. Cement tiles become more unique over time due to a porous surface that often develops a patina. Cement tiles can also be sanded and resealed like hardwood flooring if the homeowner wants to erase the patina and start over. Keep in mind that cement is a type of floor tile that must be resealed once a month and is ideal in small quantities in lower-traffic areas.


Natural Stone Tiles: Marble, Granite, Limestone
Natural stone is a type of floor tile that offers long-lasting elegance. And because it isn't manufactured, it's often an eco-friendly choice that offers a unique look for each home — no two pieces are alike.

The veining of marble offers any space an immediate upgrade in texture and depth. Best in lower-traffic areas, marble is susceptible to scratching and staining and can be difficult to keep clean. Applying a sealant can improve its longevity, but many prefer to use marble only for small touches like a backsplash or accent wall. Granite is a more budget-friendly alternative to marble with a similar look and feel. Limestone, another popular natural stone tile, offers a lot of variation in tones and shades. It is durable yet soft so it can be cut into bespoke patterns. Aside from marble, granite, and limestone, other popular stones include:




Sandstone – Offers pleasing patterns and colors similar to desert or beach sand, ranging from brown to gold to red. Its durability means many people choose this type of floor tile for high-traffic areas.
Quartzite – A hard, glassy sandstone featuring tiny crystals that make it glimmer and sparkle.
Onyx – Onyx is a semi-precious type of quartz with wide variation and more color options than you might imagine.
Slate – A durable stone with a high anti-slip rating and more colors than you'd think — though often darkly colored in black, green, or gray, you can also find red, gold, purple, and blue slate.
Which types of floor tiles are best for flooring?
There are a variety of things to consider when choosing the ideal floor tile. Every situation is unique, so here are some key comparisons to keep in mind that we haven't mentioned yet:


Ceramic vs. Porcelain
Since porcelain is a type of ceramic, these two types of tile flooring have many things in common. However, porcelain is made of more refined clay and baked at a higher temperature, making it less porous, more waterproof, more resistant to staining, and overall more durable. However, porcelain can be more slippery and more of a safety hazard in the home, and is far more difficult to install. Both are ideal for just about any placement in a home or business.


Glazed vs. Unglazed
An extra layer of liquid glass or enamel can offer more stain and moisture resistance.


Floors USA Has A Wide Variety of These Types of Floor Tile — And More
Our experts have decades of experience in all types of floor tile and can help you make the best choice for any application. We also have an incredible amount of inventory available today, so you don't have to wait for the perfect flooring to arrive. Make an appointment by August 31, 2022, to save 10% on items in stock and 5% on special orders during our Summer Savings Days sale!