Blog > Flooring 101: Your Total Guide To All The Types of Carpet
Flooring 101: Your Total Guide To All The Types of Carpet
Wednesday, July 27, 2022 4:58 PM Carpet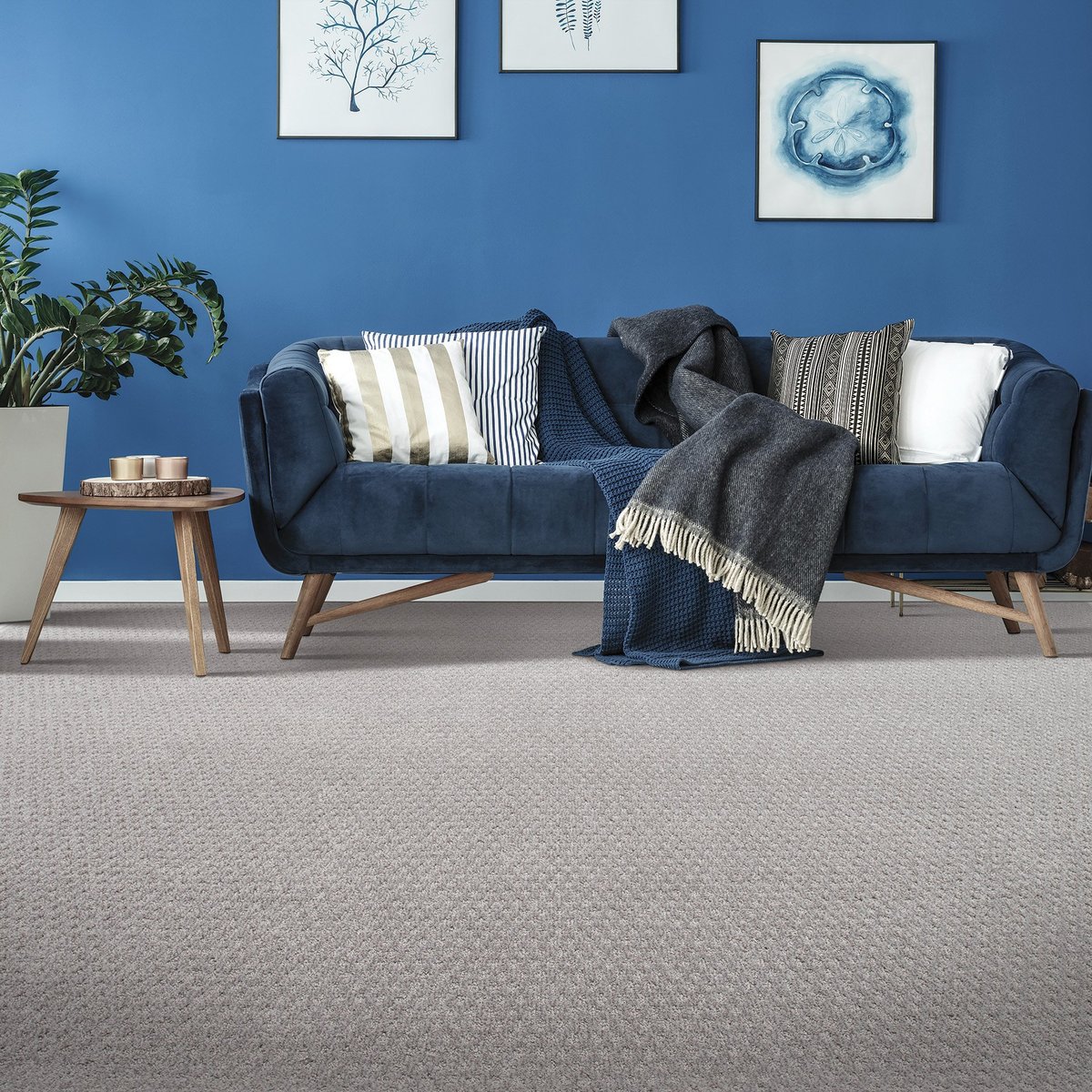 While hardwood and laminate have become more popular in recent years, carpet still accounts for more than 60% of retail flooring sales. It's no wonder, considering the variety of styles and options available. Plus, carpet is well known for being cozy, soft, warm, and great for dampening noise.

If you're considering carpet for a project, check out our total guide below to discover your options. If you have questions, don't hesitate to call us or stop by our store at 555 South Henderson Road in King of Prussia.


Types of Carpet Construction
Carpet construction defines how the fibers are attached to the backing. There are three main types of carpet construction:


Loop Pile
Also called Berber, loop pile carpet includes uncut yarn looped into the backing. It is very dense, making it durable for high-traffic areas and resistant to stains. It's ideal for stairs and hallways, but keep in mind that the loops can snag on pet claws.


Cut Pile
Cut pile carpet consists of fibers (sometimes two-toned) that have been cut and tightly twisted. Popular in family rooms and bedrooms, there are several types of cut pile carpet:



Plush
Saxony
Textured
Frieze
Cable
Cut and Loop
This type of carpet construction incorporates a mixture of both loop and cut piles. The looped yarn is often shorter than the cut yarn, which provides the appearance of a surface pattern. This type of carpet is popular in family rooms and bedrooms. It can also be great for office spaces due to the polished look patterned carpet offers.


Types of Carpet Fibers
Carpet fiber refers to the basic material the carpet is made of. Nylon is the most popular type of carpet fiber, but there are several other types. All are synthetic aside from wool:


Nylon
Nylon's popularity may be due to its durability and resistance to wear. However, it isn't great at fighting stains, so many now include a stain-resisting treatment.


Polyester
Also hydrophobic and stain-resistant, polyester offers vibrant colors — but it's less durable than nylon and more prone to fading in the sun.


Triexta
This type of carpet is similar to nylon in look but much softer in feel. It's also naturally hydrophobic to repel stains and moisture.


Olefin
Olefin is tougher than nylon but not as comfortable to walk on. Though we don't recommend carpet for basements and the outdoors in general, if there is a unique need for it, olefin is the best choice.


Acrylic
Acrylic carpet isn't widely available but can be used as a less expensive alternative to wool.


Wool
Wool is the only natural fiber used for indoor carpeting and is considered eco-friendly. Though durable and stain-resistant, wool requires proper cleaning — standard stain removers can damage it.


Types of Carpet Piles
Pile refers to the length of the fibers:


Low Pile
The shortest fiber length, low pile carpet looks and feels very dense and flat. Because of its density, it's easy to clean and durable — the shortness of the fibers prevents it from catching much dirt or debris. This type of carpet is best for high-traffic areas and anywhere pet hair or dirt might be a concern. In addition, low pile carpet has less cushion to it, so it's often easier to walk on, making it great for staircases and hallways where tripping is a common hazard.


Medium Pile
Medium pile carpet sits in the middle between comfort and durability. The fibers are short enough to hold up to moderate traffic but slightly longer to offer a softer, more cushioned feel.


High Pile
The longest fibers, high pile carpet is fluffy and plush with the most cushion and adds a feeling of warmth and luxury to rooms while dampening noise. The downside is that it collects more dust and debris than shorter piles. It can also hold the impression of furniture or footfalls for longer. 


Carpet Density (Face Weight)
Carpet density, or face weight, is a range that measures how much yarn is used. The higher the face weight, the more dense and durable the carpet will be. Higher density often translates to higher quality and will be found among the higher-end, more expensive carpet options.


Types of Carpet Backing
Carpet backing refers to the base or foundation of the carpet. There is a primary backing where the carpet fibers attach and are held, and the secondary backing, which constitutes the border between the floor and the carpet padding. Most backing is polyurethane-based, but there are three types of carpet backing:


Polyurethane Carpet Backing
One of the most common types of carpet backing, polyurethane is both strong and affordable. It is made from resin that hardens into a rough and rubbery substance to effectively hold the carpet fibers in place and provide maximum durability. However, this rough material can damage the baseboards surrounding or the floor beneath the carpet.


Soft Plastic Carpet Backing
Soft plastic backing is gentler on the underlayment and baseboards but is not as strong as polyurethane. It is also less moisture resistant and a poor option for areas with humidity.


Jute Carpet Backing
Jute is the most durable type of carpet backing and an eco-friendly option as it is a natural fiber woven from the jute plant. However, jute backing can be much more difficult to find.


Types of Carpet Padding
Carpet padding is the cushion beneath the carpet, a foam fiber or rubber layer beneath. It prolongs the life of the carpet, provides insulation, dampens noise, and adds comfort. Some have a moisture barrier to resist spills, but there aren't really types of carpet padding so much as a range of thicknesses. 

Thicker carpet pads are more durable and comfortable to walk on, but areas where you want sure footing like stairs and hallways can benefit from a thinner option. You also want to pair thin carpet (like Berber) with thin padding.


What Type of Carpet Is Best for Each Area?
At Floors USA, our flooring experts have decades of experience, so we know better than anyone that everyone's home and flooring needs are unique. We work diligently with clients to make personalized recommendations around the best flooring choice for each area of your home or business. We recommend giving us a call or stopping by the store for tailored guidance. In general, though, these are the best options for carpet-friendly rooms:


Family Rooms and Bedrooms
Cut pile / cut & loop construction
Medium pile
Thicker padding
Stairs and Hallways
Loop construction
Low pile
Thinner padding
What Type of Carpet Is Easiest to Clean?
The lower the pile, the easier the carpet will be to clean. The higher the pile, the more it will trap dirt and debris. All of the synthetic fibers are similar in cleaning ease and simplicity, but wool is trickier — standard carpet stain removers can be damaging to the natural fiber.


What Is the Most Popular Type of Carpet?
A medium pile nylon plush carpet with cut-pile construction is most popular for family rooms and bedrooms.


What Is the Most Durable Carpet?
Loop pile is the most durable carpet construction. Olefin is a durable fiber, but nylon is much more popular for indoor carpeting and next in line for most durable. Low pile carpet generally shows wear and tear much less than higher piles, and the higher the density/face weight, the better. Jute is the most durable backing, but polyurethane is second-best and much easier to obtain.


Do You Need New Carpet Now?
Our experts have decades of experience in all types of carpet and can help you make the best choice for any application. We also have an incredible amount of inventory available today, so you don't have to wait for the perfect flooring to arrive. Don't wait — make an appointment by August 31, 2022, to save 10% on items in stock and 5% on special orders during our Summer Savings Days sale!