Blog > A Complete Guide to Maintaining Beautiful Hardwood Floors
A Complete Guide to Maintaining Beautiful Hardwood Floors
Tuesday, January 24, 2023 1:48 PM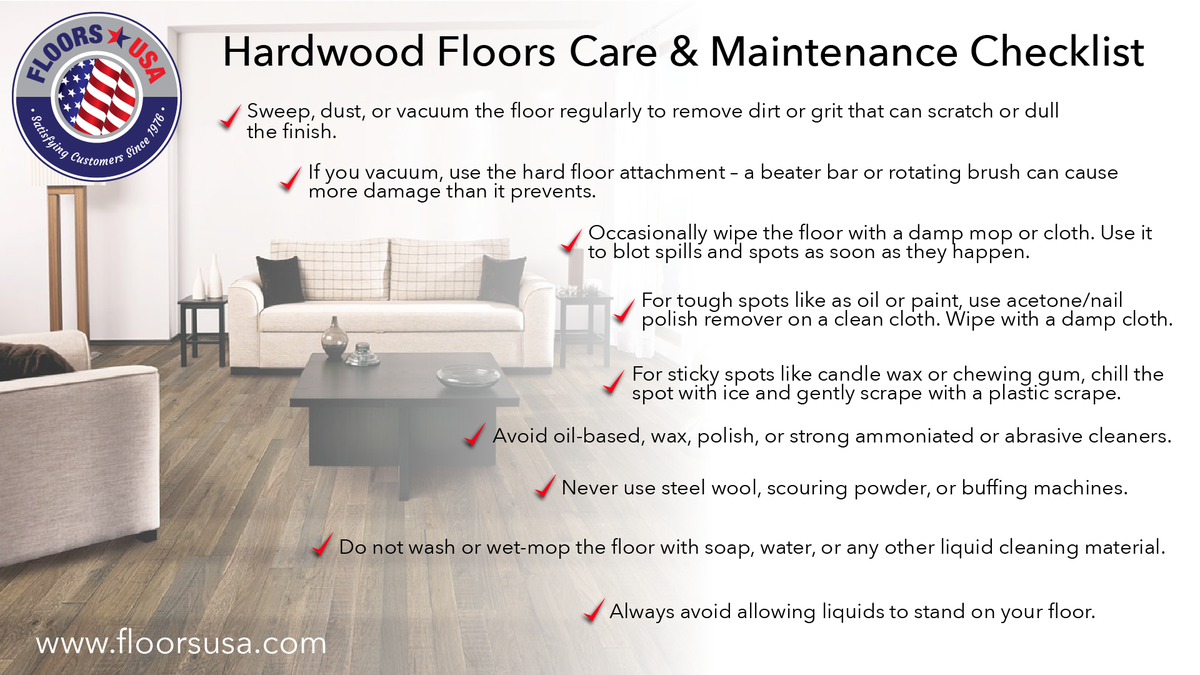 Hardwood flooring is one of the most beautiful and classic types of flooring available, and you can keep it looking stunning for decades with proper care and maintenance. The good news is that it's not a lot of work. Below, find some simple tips for keeping your hardwood in good shape. We've also included a handy checklist you can download and print to keep as a reminder.


Keeping Your Hardwood Floors Beautiful Starts with Prevention
With a bit of forethought and prevention, it's easy to keep your hardwood floors looking beautiful year after year. Proper care and maintenance will help you avoid major restorations like re-coating or refinishing. However, keep in mind one of the benefits of hardwood flooring is that it can be repaired, refinished, and restored to look like new should damage occur.


Rugs and Mats
Door mats at all entrances will help prevent dirt, grit, and other substances like oil, asphalt, or driveway sealer from being tracked onto your floor. Keep door mats and rugs clean, and avoid rubber- or foam-backed plastic mats that can discolor the flooring.

Exposure to sunlight can cause the color of your floor and finish to change over time, taking on an age-worn patina. This effect can be beautiful, but you want it to be consistent. Blinds, shades, and curtains or drapes can protect against sun exposure. However, most people don't want to live in darkness, so rearrange area rugs and furniture regularly to allow the flooring to age evenly.


Furniture Protectors
You can avoid or minimize scratching or damage from furniture by placing felt furniture pads or other protective pads such as rubber non-marking casters on chair and table legs. You can also use wide-load-bearing leg bases/rollers to minimize indentations and scratches from heavier furniture or appliances.


Remove Shoes
Be sure to have any athletes remove their spikes or cleats. One walk across a wood floor with shoes like that, and damage is a certainty. But the heels of your regular shoes are also a potential danger if not in good repair—especially high heels. Heels missing their caps or worn through to the point of exposing metal or other abrasive surfaces can cause scratches and dents on any floor's surface.

Don't forget pet paws — keep your pets' nails trimmed to keep them from scratching your flooring.


Keep It Dry
Water can cause damage to the wood's structure and to the finish. Refrain from pouring water on your floor to clean, and always immediately wipe up water or other liquids.


Control Humidity



During the cold season, the air inside your home is dry, and the wood will contract and shrink. Wood stoves and electric heat tend to create arid conditions. We recommend using a humidifier to prevent excess shrinkage due to low humidity levels.
When it's hot outside, the air is typically humid. An air conditioner or dehumidifier can lower humidity during summer to prevent swelling and expansion.


Hardwood Floors Care & Maintenance Checklist
Sweep, dust, or vacuum the floor regularly to remove dirt or grit that can scratch or dull the finish.
If you vacuum, use the hard floor attachment – a beater bar or rotating brush can cause more damage than it prevents.
Occasionally wipe the floor with a damp mop or cloth.

Use a damp cloth to blot spills and spots as soon as they happen. For tough spots, such as oil, paint, markers, lipstick, ink, tar, or cigarette marks, use acetone/nail polish remover on a clean white cloth, then wipe with a damp cloth.
For sticky spots like candle wax or chewing gum, chill the spot with ice and gently scrape with a plastic scraper, such as a credit card. Wipe clean with a damp cloth
Avoid oil-based, wax, polish, or strong ammoniated or abrasive cleaners.
Never use steel wool or scouring powder.
Do not wash or wet-mop the floor with soap, water, or any other liquid cleaning material. Swelling, warping, delamination, and joint-line separation are likely results.
Always avoid allowing liquids to stand on your floor.
Don't use any buffing machine on wood floors.


Get Deep Discounts on Hardwood Floors at Floors USA
Are you interested in increasing your home's resale value by adding beautiful hardwood flooring? Or maybe it's time to add in some new carpeting or a gorgeous luxury vinyl tile pattern to your powder room. Whatever your needs, we have extensive flooring in stock and much more available through special order! Customer satisfaction is our number one priority, so our staff will work with you to ensure you are 100% satisfied with your purchase.

Don't wait — we're emptying our warehouse of overstock and letting go of the most beautiful flooring on the market at prices you won't see anywhere else. For example, right now we have Shaw Atlas Hardwood Flooring in True North for 20% Off. Quantities are limited, so make an appointment or stop by today!