Blog > A Complete Laminate Floors Buying Guide: Pros, Cons, and More
A Complete Laminate Floors Buying Guide: Pros, Cons, and More
Tuesday, July 19, 2022 9:35 AM Laminate Floors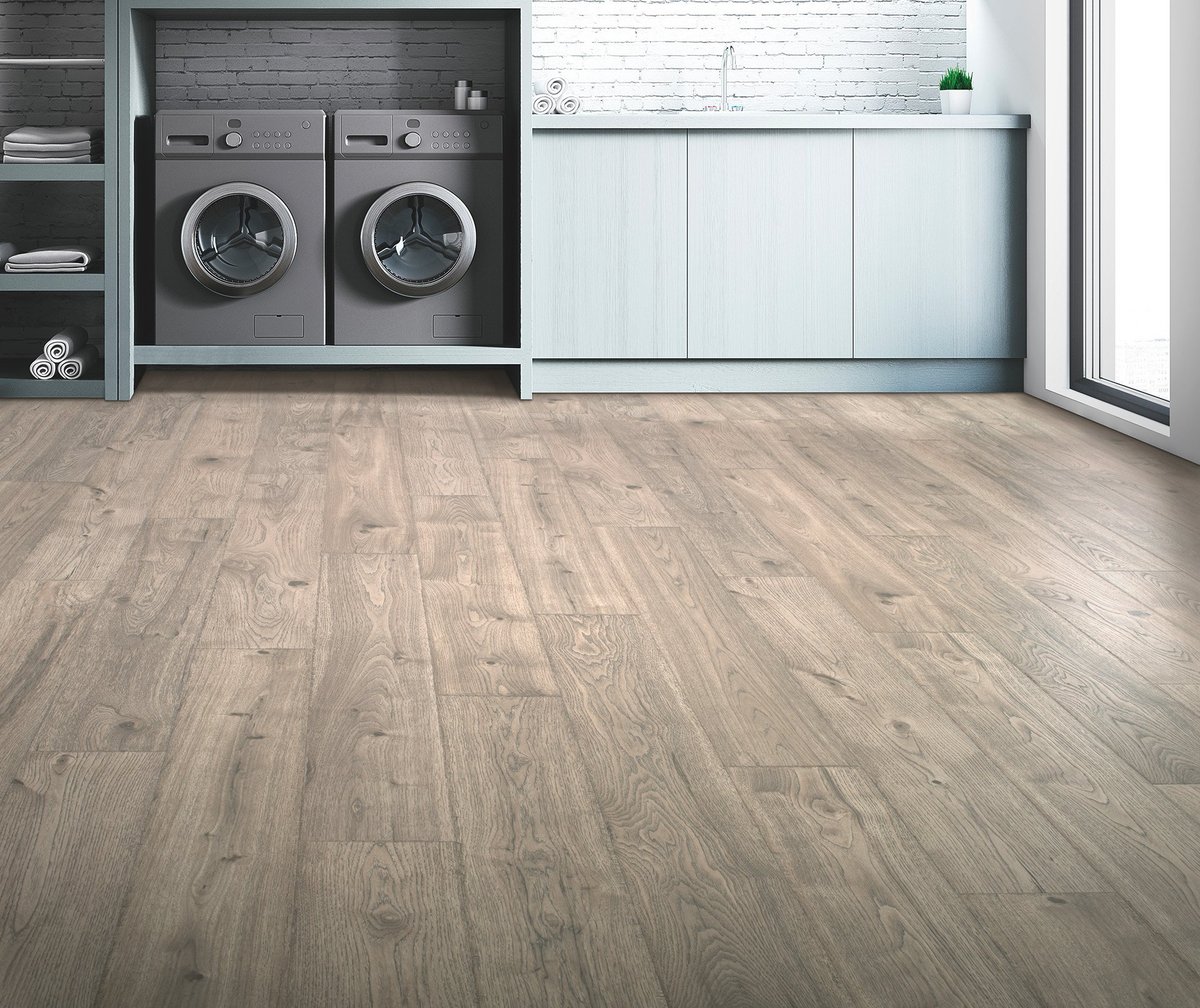 Laminate flooring came out back in the 1970s and has continued to grow in popularity since. Laminate floors are made of layers of wood fibers, followed by a layer designed to mimic the look of wood, tile, and stone, and topped with a durable wear layer. It has become a favorite flooring choice due to its durability and variety of styles.

Below, we explain the pros and cons of laminate flooring and provide some comparisons to its most popular rivals, vinyl and hardwood, so you can decide if it's the right choice for your project.


What Are the Pros and Cons of Laminate Flooring?
Pro: Style Options
There are laminate options for nearly every style. Laminate floor makers create different styles by placing an image layer on top of the core which holds an embedded photo of natural material. They can mimic the most exotic hardwood or stone in a variety of textures and colors.


Con: No Refinishing
Though manufacturing of laminate floors has advanced significantly since the '70s, you still cannot refinish laminate flooring without damaging the image layer.


Pro: Durable Top Layer
Today's laminate includes a highly durable wear layer on top of the image layer. This layer has strong protection against sun fading, foot traffic, scratches, dents, and stains. You may not be able to refinish it, but you can replace an individual plank of laminate if it becomes damaged. Most manufacturers label their laminate's durability with an abrasion criteria (AC) rating. AC1 is the least durable and ideal for moderate residential use like closets and bedrooms. The most durable is AC5, which works well for heavy commercial applications.


Con: Susceptible to Moisture
Because laminate flooring construction includes wood, it is not resistant to moisture and is not the best choice for bathrooms, laundries, mud rooms, and kitchens.


Pro: Easy Care
As long as you follow manufacturer recommendations for care, laminate flooring is easy to maintain. Make sure to use the recommended cleaning products made specifically for laminate floors and avoid total saturation with water.


What Is Better, Laminate or Vinyl Flooring?
Vinyl and laminate floors have a lot in common: durability, affordability, extensive style options. But there are a few important differences to keep in mind when choosing between the two.


Style and Appearance
Laminate flooring tends to look a little more high-end than vinyl, especially with the realistic embossing that manufacturers are now able to include. If you decide on vinyl and want the most realistic look possible, opt for vinyl with a thicker core.


Water Resistance
Vinyl is much more water resistant than laminate. Made of polymer materials, vinyl can handle a large amount of water. With vinyl sheeting, you can install a single piece to cover the entire space and avoid water seeping through the cracks of individual vinyl tiles. Because laminate usually includes a fiberboard core, it can swell, soften, and begin separating layers when exposed to moisture.


Cleaning and Maintenance
Partly due to its water resistance, vinyl flooring is very easy to clean and can handle most cleaning products. With laminate, it's better to stick to dry cleaning methods like sweeping regularly with a broom and using a dry mop for more stubborn dirt.


Durability and Longevity
In addition to its susceptibility to water, laminate flooring can't be repaired when scratched or dented (though, as mentioned above, whole planks can usually be replaced.) Laminate can often last up to 10-25 years, but only with proper care and maintenance. Vinyl is also durable and can handle high amounts of traffic, usually lasting for about 20 years with conscientious care and maintenance.


Is Hardwood Better than Laminate?
The answer to this question depends on what you want to get out of your flooring. Laminate floors are a popular alternative to hardwood because they are usually more affordable and can provide a similar look, often offering more style options than hardwood can provide.

However, while laminate can be quite durable, it doesn't offer the long life of hardwood because it cannot be sanded or refinished. Hardwood also has better resale value as a design choice when it's time to sell the home, especially in older or historical homes where buyers often expect to find flooring with longevity. Plus, hardwood works well with radiant heating systems often found in older homes.

We suggest you make your choice based on your lifestyle, and not just the look of the flooring. If you have an energetic household with lots of pets, children, and visitors, you find yourself loving how easy laminate floors are to clean, even though they may not last as long or offer the same resale value.


We Have Beautiful Vinyl, Hardwood, and Laminate Floors In Stock and Available Now
Our experts have decades of experience in all types of laminate floors and can help you make the best choice for any application. We also have an incredible amount of inventory available today, so you don't have to wait for the perfect flooring to arrive. Don't wait — make an appointment by August 31, 2022, to save 10% on items in stock and 5% on special orders during our Summer Savings Days sale!