Blog > How to Choose the Best Material for Your Kitchen Floor
How to Choose the Best Material for Your Kitchen Floor
Friday, September 16, 2022 9:36 AM Kitchen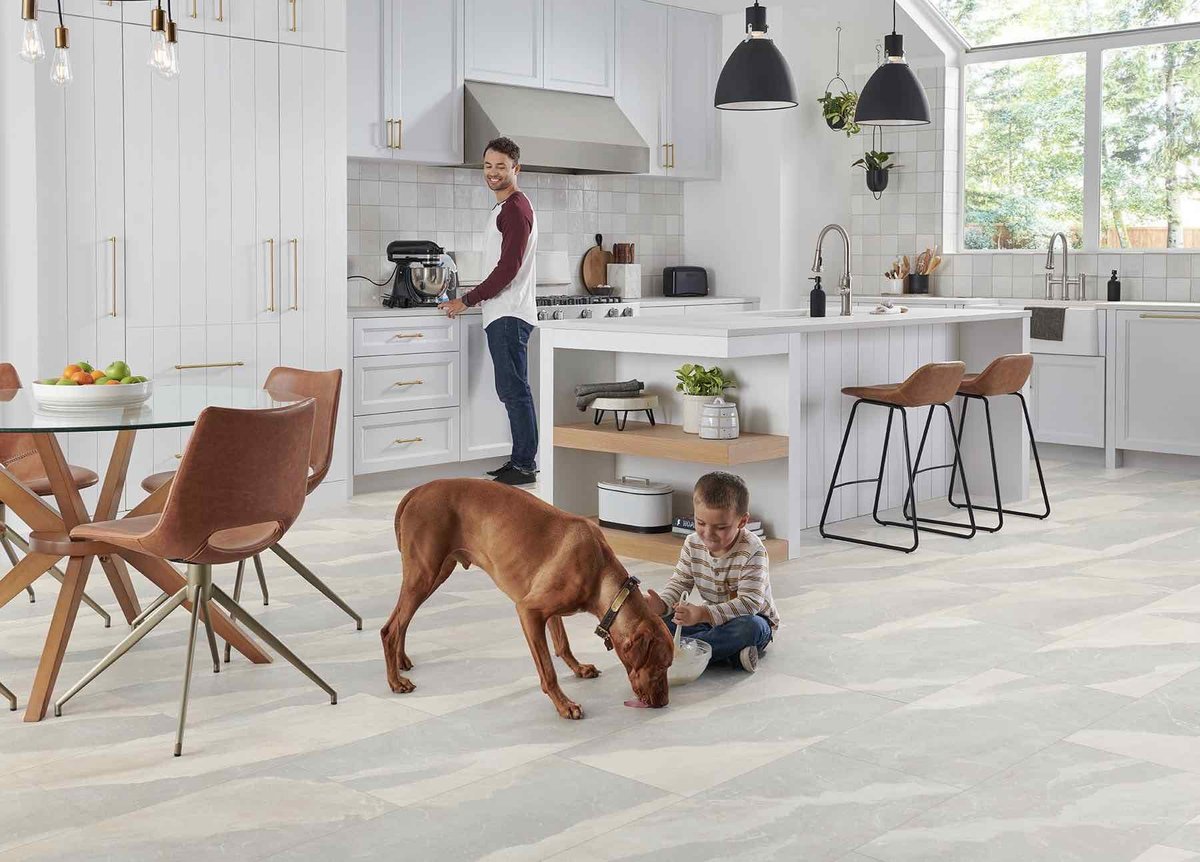 Kitchens have long been a gathering place for friends and family to share memories and good times. In recent years, kitchens have also become design focal points, showcasing fixtures and colors that complement the style of the home. As a result, it may feel like there are infinite options to consider when updating your kitchen.

But kitchen floors are also exposed to a lot of traffic. From spills to dropped skillets, your flooring needs to last and last beautifully. Unfortunately, not every material is up to the job. When choosing new kitchen flooring, it's essential to consider how much traffic the space will get, along with the risk of messes and leaks. We recommend focusing on the room's functional needs first because most materials offer scores of style options. Plus, Floors USA has massive amounts of inventory available today to ensure you find the exact look you want.

Below are some practical considerations when choosing a new kitchen floor, followed by information about the most common materials.


What to Consider When Deciding What Kitchen Flooring Is Best
Thinking about your new kitchen flooring in these terms might make it a little easier to begin narrowing down your choices:


Durability
How much traffic does your kitchen tend to get? A kitchen floor should be able to stand up to your lifestyle for years without degrading. Look for moisture-resistant materials to provide the greatest durability.


Comfort
Do you spend a lot of time in the kitchen preparing meals or entertaining guests? If you'll be on your feet in front of the sink or stove often, make sure you choose a material that offers cushion underfoot. You can also place cushioned mats in areas where you'll be standing for long periods to protect your feet, joints, and back from stress.


Maintenance
Do you have kids and pets that may make messes? Some materials are more difficult to keep clean than others. Look for materials that won't add another hassle to your daily to-do list.


Personal Style
Once you've identified the materials that will offer comfort, durability, and easy clean-up, it's time to think about what patterns, textures, and colors you'll enjoy seeing every day. Your flooring should coordinate with your home's personality. With the vast number of options available in our store, it's easy to find the perfect match.


What Is the Best Kitchen Flooring?
Now that you know what you're looking for, here's a rundown of the most common types of kitchen flooring with all the critical pros and cons to keep in mind:
Vinyl
Vinyl is one of the most popular choices because it is resilient, comfortable underfoot, and resistant to moisture. Vinyl comes in large sheets as well as vinyl planks and tiles. Engineered vinyl planks can sometimes heighten the flooring's stability and resistance to dents. While vinyl is very durable, it does tend to be susceptible to dents from heavy appliances sitting in the same spot over long periods.

Vinyl is easy to clean and highly resistant to stains. High-quality luxury vinyl flooring can last up to 20 years. With its ability to mimic hardwood and stone remarkably well, it has become common in upscale homes.

Ceramic / Porcelain Tile
Ceramic and porcelain tiles are hard, durable, easy to clean, and almost entirely immune to damage from water and stains. It is resistant to heat and can last indefinitely without much change in its appearance. You can choose from a variety of shapes, sizes, and styles, creating artistic patterns with the tiles if you want a bespoke look. The only downsides to ceramic and porcelain tile are that they can be hard and cold to stand on for long periods. However, many homeowners find that installing radiant heating under the tiles adds warmth and comfort.
Natural Stone
Natural stone is a very luxurious and long-lasting choice for a kitchen. It can also be very enticing to home buyers. However, remember that stone tends to be porous and susceptible to liquid damage and stains. Applying an appropriate sealant every year can help offset this drawback.

Different types of stone will offer different hardness levels, scratch resistance, and durability. Granite is a good choice for high-traffic areas and can last for decades if sealed and maintained. Slate is another option that can last decades with the proper treatment and is very slip-resistant. Polished marble is beautiful but may be easily scratched and stained and can get very slippery when wet.

Hardwood / Engineered Hardwood
Hardwood is susceptible to damage from water and requires more care and maintenance than other options. However, it is still a beloved choice because it gives the home a warm, natural feel and adds to the resale value. Manufacturers have been adding modern sealers and polyurethane finishes to help protect classic wood floors and require less maintenance. But you should still think carefully about choosing hardwood for a kitchen floor. While it can be sanded and refinished, hardwood will degrade over time. Engineered hardwood can be a better option, adding more moisture resistance.


Upgrade Your Kitchen Floor with Floors USA
With extensive amounts of luxury vinyl in stock and much more available through special order, you are certain to find the right flooring for your home at Floors USA. Customer satisfaction is our number one priority, so our staff will work with you to ensure you are 100% satisfied with your purchase. Don't wait — make an appointment by October 31, 2022 to save 10% on items in stock and 5% on special orders during our Anniversary Sale!