Blog > Engineered Hardwood Pros and Cons: Is It Right For You?
Engineered Hardwood Pros and Cons: Is It Right For You?
Wednesday, April 27, 2022 12:00 AM Hardwood floors, Engineered wood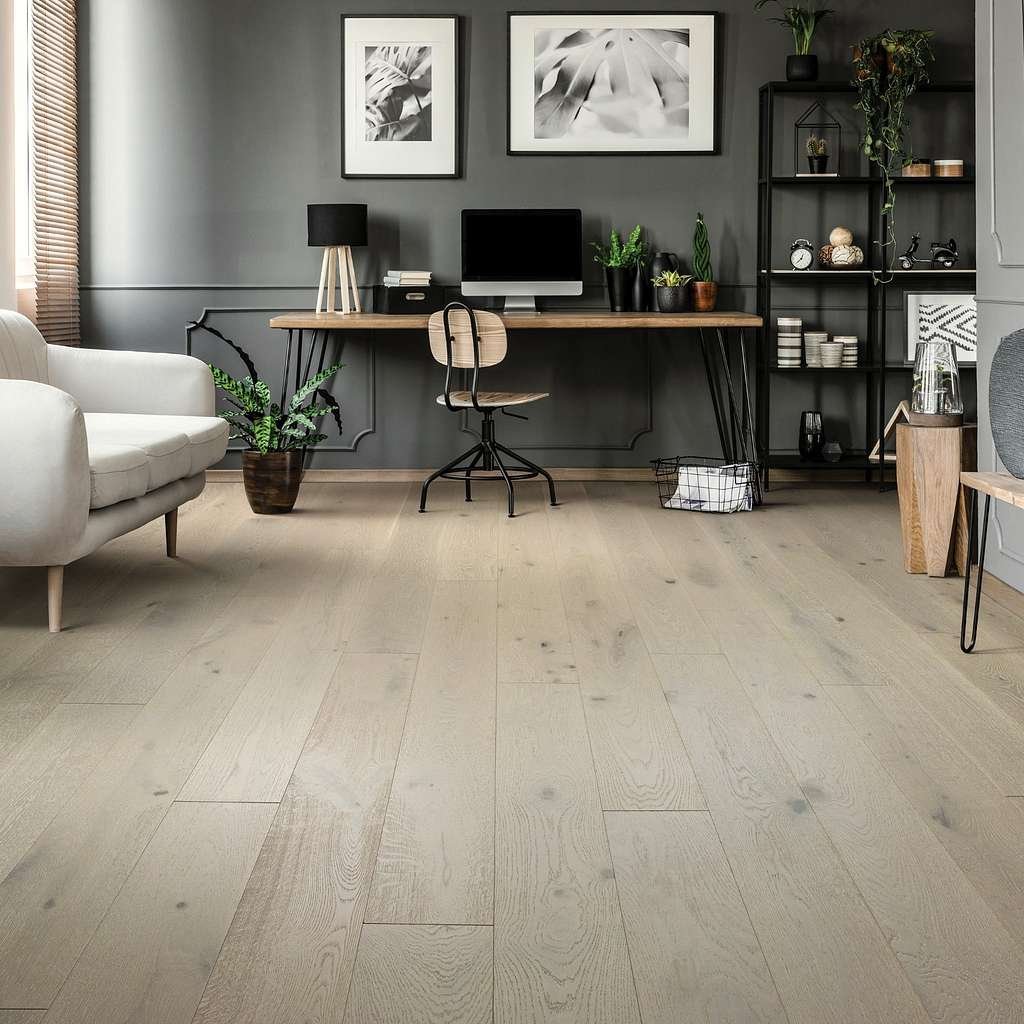 Engineered Hardwood Pros and Cons: Is It Right For You?

There are a lot of misconceptions and misunderstandings out there about engineered hardwood that can make it difficult to know if it's the right choice for your project. For example, did you know that engineered hardwood is real wood? The difference between engineered hardwood and solid hardwood is simply that engineered hardwood is composed of a veneer or wear layer over a core of strengthened composite plywood layers, while solid hardwood is composed of the same solid wood throughout.

Today's modern engineered hardwood is engineered with the best materials, including a thick veneer and solid core, so that they behave almost exactly the same way as solid hardwood. Once installed, it's virtually indistinguishable from solid hardwood. So if you're making a choice between engineered hardwood and solid hardwood, or any other type of flooring, it's essential to know the details. Below, we've broken down all the engineered hardwood pros and cons needed to decide whether it's the right choice for you.


Engineered Hardwood Pros and Cons: The Pros
When looking at engineered hardwood pros and cons, there are some very significant pros to consider:


Environmentally Conscious
Engineered hardwood uses less hardwood per plank than solid wood floors, which can be a significant factor when considering exotic or rare species of wood. In addition, these floors can easily be regarded as eco-friendly and sustainable with little to no sawdust or toxic glue. The extent to which this is true varies between manufacturers, so be sure to investigate the brand you're considering for environmental certifications or other information that can confirm its sustainability.


Easy to Install
Engineered wood flooring is quick and easy to install. Engineered hardwood that clicks together can be floated over an existing sub-floor, with planks connecting over the top of an existing floor rather than being nailed or glued down. If you hire someone else to do it, you can rest assured the installation will be finished quickly in experienced hands. If you choose to DIY, if you are using prefinished planks and have prepared your sub-floor ahead of time, you might even be able to complete the project in a day, depending on the room size.

Glue-down or nail-down installations are a bit more challenging. We recommend going with a professional to avoid headaches and ensure the installation is performed with the utmost precision and quality. A properly installed floor is essential to a long lifespan.


Potentially Long Lifespan
Properly installed and maintained engineered hardwood of good quality can last around twenty to thirty years. The highest quality and most durable brands can even last up to fifty! However, diligent maintenance and care for the veneer are critical for ensuring your engineered hardwood will live a long life.

Choose manufacturers who use top-quality materials to ensure good structural integrity and durability. Also, look for thicker veneers of at least 3mm, so you have the option of refinishing if necessary. However, if you choose a pre-finished engineered hardwood, you can trust the standard 1.2mm veneer thickness. Pre-finished planks offer an ultra-durable UV-cured finish that is so strong it will likely never need to be refinished but instead resurfaced, which doesn't require sanding down to lower layers.


Abundant Design Options
Modern engineered hardwood and solid hardwood have the same look and feel, with engineered hardwood offering the same species of wood designs. Like solid hardwood, you can create a classic herringbone or chevron parquet design, horizontal stripes, or a unique design from your own imagination. Exotic species of wood like Brazilian Cherry or Brazilian Teak are also available, typically at a higher cost than domestic species like oak, maple, and hickory.

If you consider a more exotic wood species, consider an engineered product. Engineered exotic woods sometimes cost less than the same species of solid hardwood because they use less solid wood. This isn't always the case, however.

Many wood-adjacent flooring materials like cork and bamboo are also available in engineered options.


Engineered Hardwood Pros and Cons: The Cons
Depending on the application, there are disadvantages to consider with any flooring. Engineered hardwood's pros and cons include the following cons:



High Maintenance
The surface layer of engineered hardwood is no different than solid hardwood, so it requires the same level of maintenance. Sweep regularly, keep the floor as dry as possible, and avoid harsh chemicals to protect the finish.



Susceptible to Scratches and Dents
Engineered hardwood is durable, but it will scratch and dent over time, just like solid hardwood. Pay close attention to the hardwood species of the veneer you choose, checking its durability and considering how much traffic will be coming through the area. Use rugs and furniture sliders to protect the finish from scratches.


Ready To Choose Engineered Hardwood – Or Something Else?
Now that you've got the full story on engineered hardwood pros and cons, Floors USA has extensive flooring in stock and much more available through special order. Customer satisfaction is our number one priority, so our staff will work with you to ensure you are 100% satisfied with your purchase. Get the perfect flooring for your home – make an appointment today.