Blog > Buying and Maintenance Guide to Area Rugs
Buying and Maintenance Guide to Area Rugs
Thursday, March 23, 2023 2:56 PM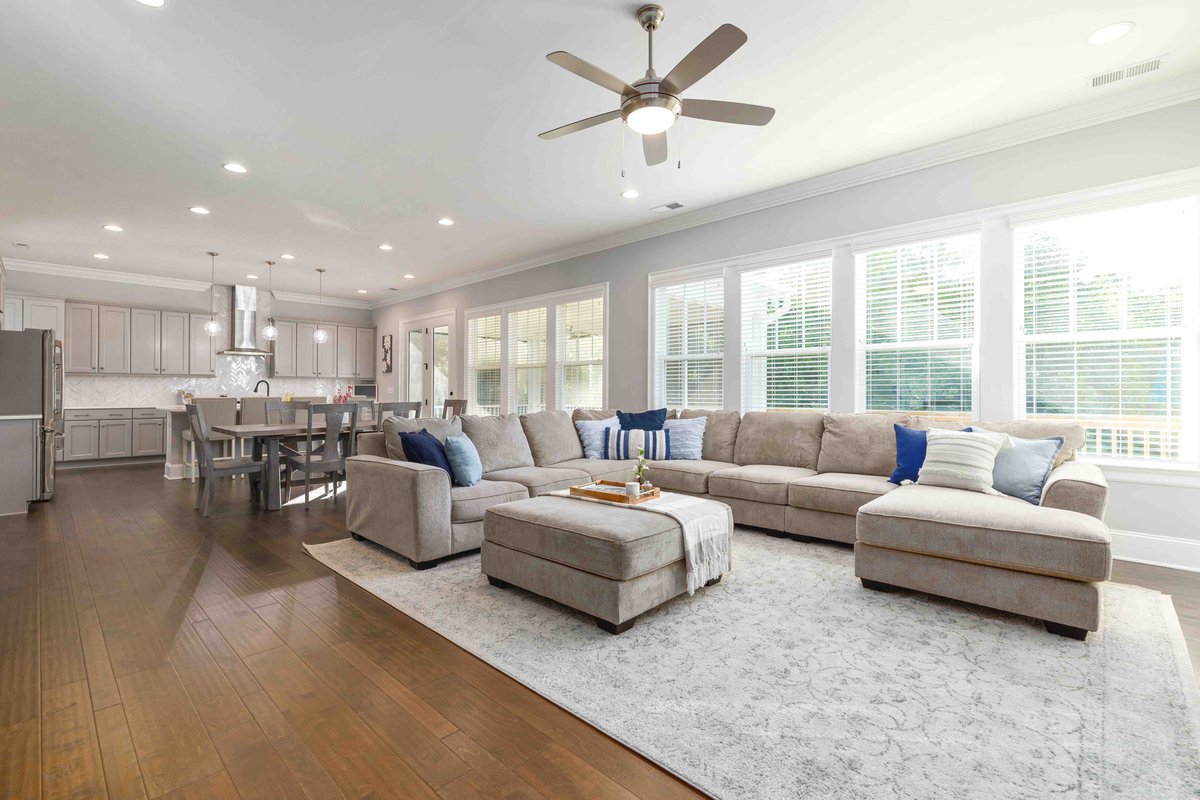 Area rugs add style to a room while also providing warmth and coziness. A popular alternative to wall-to-wall carpeting, these practical and attractive rugs allow you to showcase your beautiful floors while protecting high-traffic areas. They can tie together furniture groupings or serve as a decorative accent all on their own. Plus, they're easy to replace when they get worn or when it's time to redecorate.


Where to Buy Area Rugs
While area rugs are available at many department stores and online retailers, these retailers don't always offer the best selection when it comes to size and quality. This can make it hard to find the perfect rug for your space. Floors USA has thousands of area rugs in a variety of styles, shapes, and materials – you can even create a custom area rug.

Choosing an Area Rug
There are several things to consider when shopping for an area rug, such as the dimensions and shape of the room, the existing room furnishings, your personal style, and your budget. When it comes to area rugs, people often choose a rug that is too large or too small and are unhappy with the results when they get it home. Careful planning (including taking key measurements) will help you choose an area rug that is perfect for your space.


What Size Area Rug Do You Need in a Living Room?
Start by looking at the shape of the room and how you plan to arrange your furniture. An area rug should help you define the space. Most people opt for one of two scenarios: cover most of the flooring in a room (leaving a 12- to 18-inch border between the rug and walls) or use one or more area rugs to establish separate sitting areas in the same room.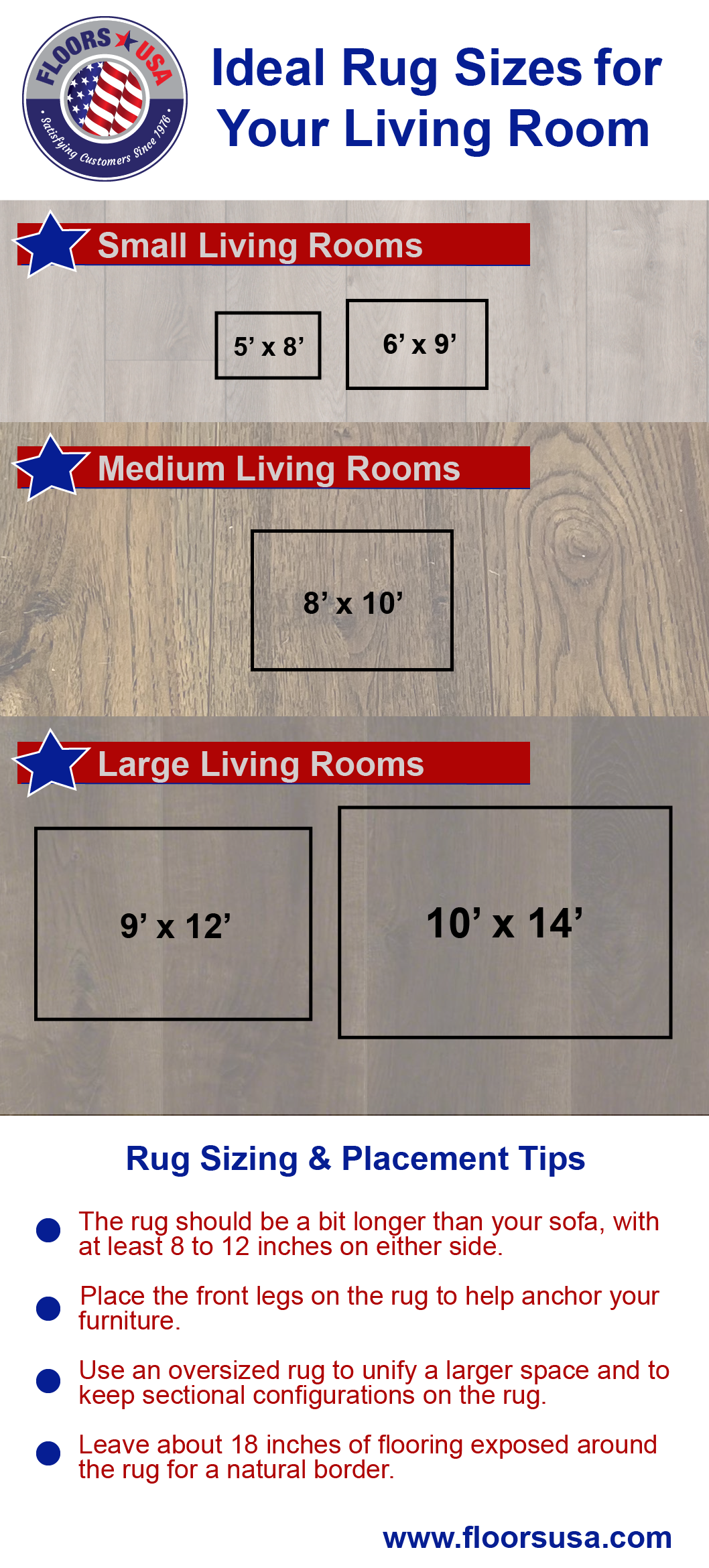 How to Arrange Area Rugs Around Your Couch
Designers recommend using one of three layouts in your living room: place all furniture legs fully on the area rug, place only the front legs of the furniture on the rug, or keep all furniture off the rug except a coffee table in the center. Open-concept rooms, or those where no furniture sits against a wall, require the largest area rugs. In this case, placing all furniture completely on the rug works best.

In a smaller room, when one edge of the furniture grouping (usually the couch) is against a wall, a front-legs-only placement will allow you to use a slightly smaller rug while still tying the room elements together. You can make narrow or small spaces look larger by placing the coffee table on an even smaller area rug, and placing other living room furniture outside the rug's borders.


How to Position Area Rugs in the Bedroom
Where you place an area rug in your bedroom depends mostly on the size of your bed. You want 18-24 inches of rug to be visible on each side and at the foot of the bed. This can be achieved by using a large area rug under most or all of the bed, or by placing two smaller area rugs (runners) on each side.

To ensure symmetry, make sure runners do not extend beyond the foot of the bed. Also consider the walkways in the room. Ensure they are either all on or all off the rug, both for safety and to avoid uneven wear on your area rugs.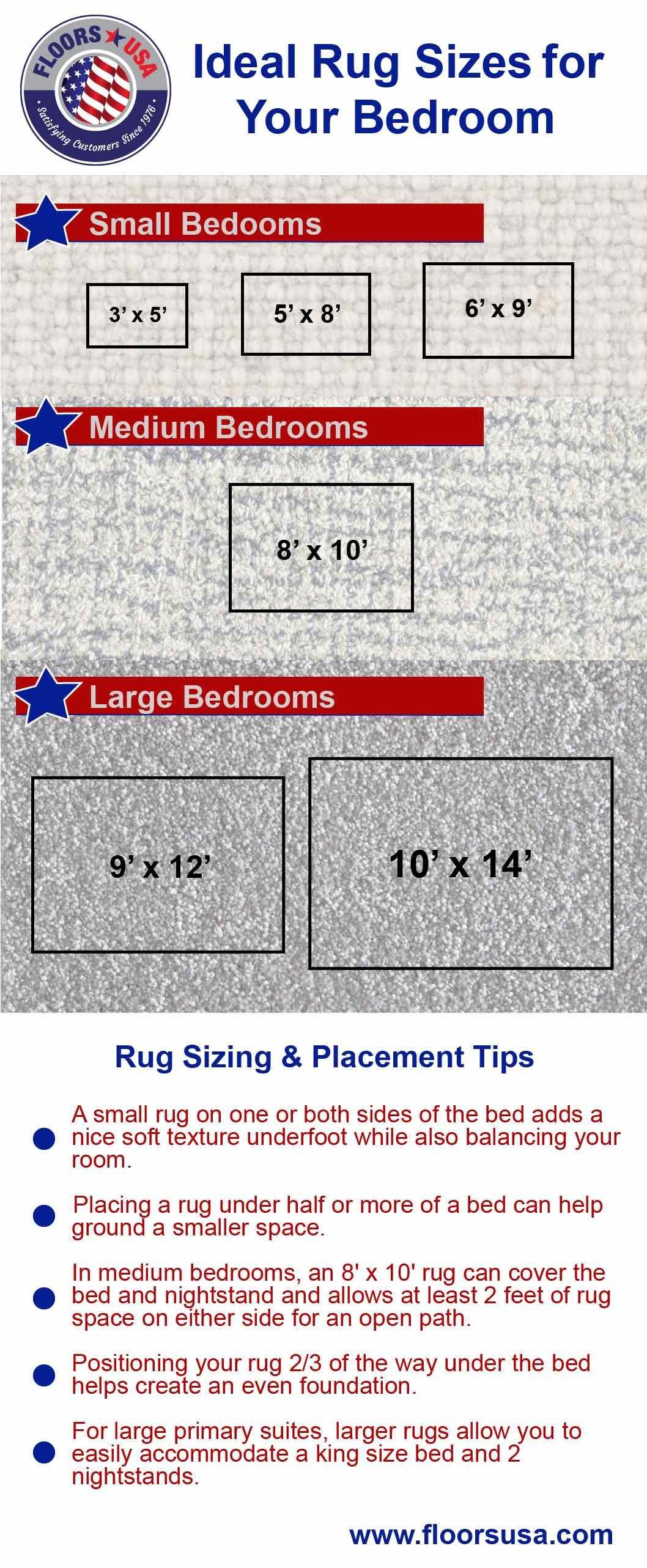 The Best Area Rug for Your Dining Room
The size and shape of both your dining room and table will influence what area rug works best. Choose a rug that will extend 24-36 inches beyond the table to ensure chairs will always have a flat surface, even when pulled out. If your table has extendable leaves, make sure you consider the size of the table with them in place.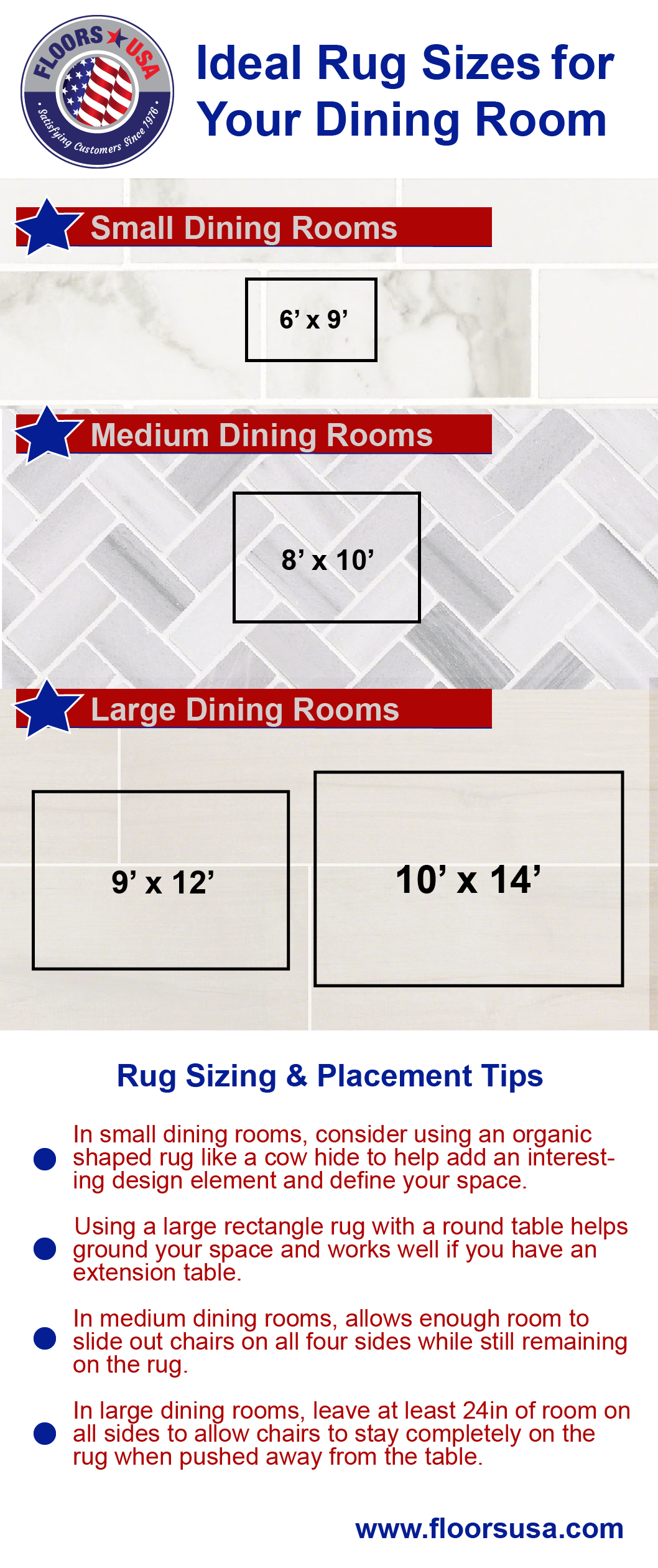 Why Are Rugs So Expensive?
While the size of an area rug factors into its cost, like everything else, the price of area rugs largely depends on the quality. Both materials and construction can make a significant difference when it comes to appearance, comfort, and durability.


Synthetic vs. Natural Material
Area rugs made from synthetic materials tend to be less expensive to produce, making them the most affordable. While some natural fibers, such as jute and bamboo, are easily sourced, obtaining other natural materials like silk and wool is more labor intensive. In most cases, natural fibers tend to take longer to break down, making the more expensive area rugs last longer.


Machine vs. Hand-Made
Most area rugs on the lower end of the price scale are machine-made. At the higher end, you will find hand-knotted area rugs, some of which can take more than 1000 hours to create. In between, you can find hand-tufted as well as rugs that are machine-made but finished by hand. Hand-made area rugs cost more, but also tend to be more durable.


How to Clean an Area Rug
An area rug can be a significant investment, but proper care will keep it looking new longer. Bright sun can fade colors and repeated foot traffic over one section will cause uneven wear. To compensate for these concerns and ensure even color and wear, you should rotate your rug once or twice a year. You also want to clean your area rugs regularly. The method you use will largely depend on the rug's size, material, and construction.


Routine Maintenance
If the rug is small enough, it can be taken outside to shake the dust and dirt out, or hung from a line and beaten. Larger area rugs should be vacuumed a couple of times a week. Remember to turn off the beater bar when vacuuming fringe or any rug with long fibers to avoid potentially tangling and ripping your rug. Any pet hair left stuck on the rug can be removed with a stiff brush.

An area rug with an open weave will likely allow dirt to fall through to the floor below. Lift the rug to vacuum the floor as well. Cleaning up spills should be done as soon as possible. Immediately blot the stain to completely remove moisture and then treat it according to your area rug's care instructions.


Deep Cleaning
You should deep clean your area rugs once every year or so. Make sure you keep and consult the care tag for care instructions which will inform you of the best cleaning method. Some possible methods are washing in a tub or washing machine, using a steam cleaner or rug shampooer, or calling in the pros either to the home or sending it out. Some area rugs, such as those made of jute or sisal, require dry cleaning processes, In general, you can expect area rugs made of natural fibers to require more delicate care than synthetic ones.


A Large Selection of Area Rugs
With thousands of area rugs in stock, many more available through special order, and the option to customize your own, you are certain to find the perfect area rug for your home at Floors USA. Customer satisfaction is our number one priority, so our staff will work with you to ensure you are 100% satisfied with your purchase. Find area rugs for any room in your home, in the size you need – make an appointment today.