Blog > A Guide to Choosing the Best Bedroom Flooring for Your Home
A Guide to Choosing the Best Bedroom Flooring for Your Home
Tuesday, March 28, 2023 3:10 PM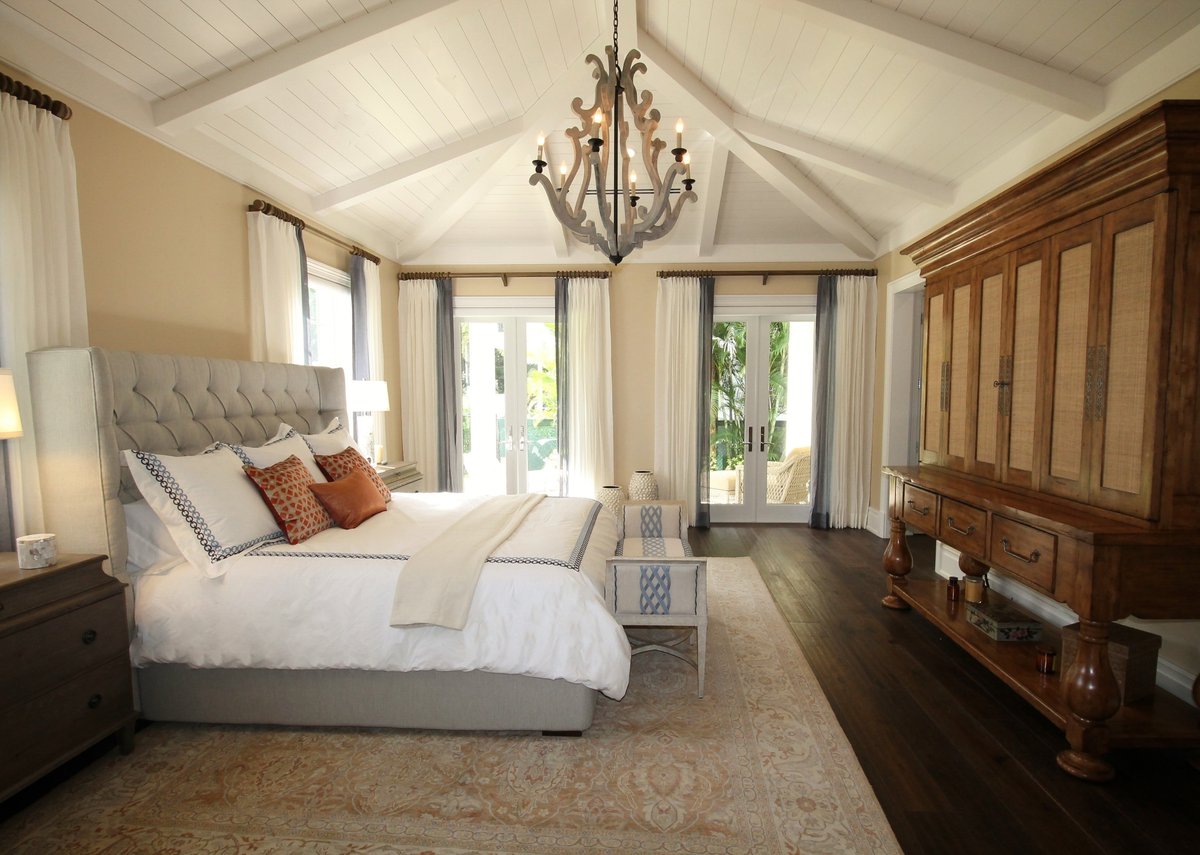 While carpeted bedrooms have long been popular, wood-look flooring (whether it be solid hardwood, tile, vinyl, laminate, or engineered hardwood) is trending and likely to remain a popular bedroom floor choice for some time. Another recent trend for bedroom floors is stone-look flooring (either real stone or luxury vinyl tile) which provides a minimalist style that is durable and easy to maintain.

Keep reading to learn more about all the top bedroom flooring options available, with pros and cons for each!


What is the Best Flooring for a Bedroom?
For most people, your bedroom is your sanctuary, the place where you feel most comfortable and relaxed. So the best bedroom flooring is one that is inviting and makes you happy. Your bedroom is the room you are most likely to walk about in bare feet, making soft and warm flooring especially attractive.

Some questions to consider:



If you are replacing old flooring, what do you have now and why are you making a change?
Who will spend time in the bedroom? Young children or the elderly who you want to protect from falling accidents?
Are you a family that allows food and drinks in the bedroom? What is the likelihood of spills?
Does your bedroom have an adjacent bathroom?
What is your budget?
A popular choice for bedroom floors, carpeting is soft and comfortable on bare feet and works well as a sound barrier. Today's carpets tend to be stain- and water-resistant, and some are made of recycled materials which make them more eco-friendly. Carpeting is often more affordable than hardwood, but tends to have a shorter lifespan of 10-20 years. Wear from traffic patterns in carpeting can also be more noticeable than other options. It is also not recommended for people with allergies.


While trends change over time, hardwood floors will never go out of style. This makes hardwood the best choice for those concerned about resale value. Hardwood flooring is beautiful and rarely needs to be replaced. Maintenance is typically low, but repairs to damage from moisture and spills can be difficult and expensive. The negatives? Hardwood flooring has no thermal or sound insulation and provides no cushion in the event of falls – but the addition of an area rug can effectively eliminate these concerns.

Rugs are a great choice to cushion the impact of wood or tile floors, and they provide a level of sound insulation. While an area rug is used in addition to other flooring, it provides style and comfort and is much easier to change when you want to redecorate. Depending on your needs and style choice, you can use one large area rug, several smaller ones, or a combination of sizes.


Luxury vinyl flooring has become a popular choice for any room in the home. Attractive and durable, it comes in either planks or tiles and in a variety of textures and styles that can mimic the look of hardwood, ceramic, or stone, offering a similar style at a lower price point. An added benefit to luxury vinyl flooring is that it is often waterproof, making it particularly desirable for bedrooms with an adjacent bathroom containing a spa or tub.


While tile may seem an unusual choice in the northeast, it is fairly common in certain house styles (like those with Mediterranean themes) often found in warmer climates. Though it is generally considered too cold and noisy to use in a bedroom, more people are choosing it for the easy maintenance and durability it offers. The most popular bedroom floor tile options today are large format and wood-look tile. On the other hand, tile is a very hard surface, which often makes it less desirable in bedrooms designed for young children or the elderly prone to falls.


Made of a thin layer of plastic laminate attached to high-density fiberboard, laminate flooring can be made to look like other materials such as hardwood, stone, or metal. The latest trend in laminate bedroom floors is using wide planks in light shades, providing a classic wooden look while the plank width offers a nod to the now popular modernist style. Laminate is durable and easy to install. Waterproof options are also available.


What is the Best Flooring for an Upstairs Bedroom?
The best flooring for an upstairs bedroom is one that keeps the upstairs upstairs! You don't want to hear people walking across the upstairs bedroom from the first floor and you really don't want any potential leaks from upstairs bathrooms coming through the ceiling. Keeping these in mind, carpeting, vinyl, and laminate all offer good sound-proofing qualities. Of these, vinyl planking is the best option in or near bath tubs or spas. Of course, hardwood is also a popular option, particularly if you also use area rugs.


What Floor is Best for a Child's Bedroom?
Luxury Vinyl Plank (LVP) flooring and synthetic carpeting are good choices for a child's bedroom because they don't show wear as easily and are also less expensive to replace. A lesser known option is cork, which provides excellent sound insulation and has the unique benefit of being naturally antimicrobial. It is also naturally soft and yielding underfoot. However, the softness can also prove to be a drawback as it can be damaged by sharp objects or pets' nails.


Where Can You Find the Best Bedroom Flooring?
With many materials, styles, and colors in stock and much more available through special order, you are certain to find your perfect bedroom flooring at Floors USA. Customer satisfaction is our number one priority, so our staff will work with you to ensure you are 100% satisfied with your purchase. Don't wait — we're emptying our warehouse of overstock and letting go of top-quality flooring from all the best manufacturers at prices you won't see anywhere else. Sweet dreams await you, so make an appointment or stop by today!