Blog > Practical and Stylish: The Top Bathroom Flooring Materials and Trends
Practical and Stylish: The Top Bathroom Flooring Materials and Trends
Thursday, February 16, 2023 9:19 AM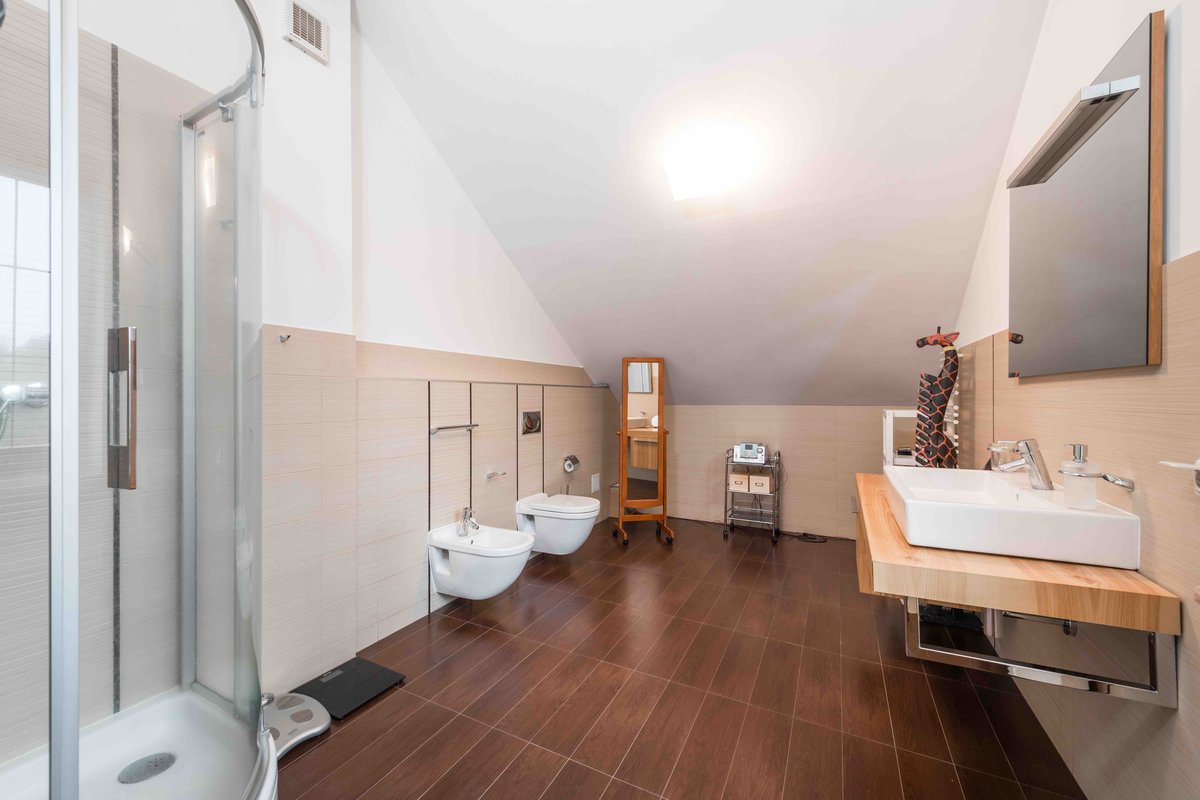 Choosing a stylish and practical bathroom floor also makes a big difference when selling a home. Bathrooms, like kitchens, are high-function and high-traffic, so they are scrutinized closely by real estate agents and potential buyers. With so many options available, deciding which bathroom floor is best for your home may be challenging. You may also wonder how to add a special touch to the room without breaking your budget. Below, you'll learn more about choosing the best bathroom floor material and discover some simple ways to elevate its style.


What Is the Best Flooring to Use in a Bathroom?
The primary consideration of any bathroom flooring choice should be water. Water is unavoidable in this room, so avoid carpet, hardwood, and laminate flooring. Waterproof flooring is ideal because water-resistant options will eventually require replacement. The best choice for you depends on how you want to balance your investment against the lifetime of the flooring.

Below are the best flooring materials to use in a bathroom, with some pros and cons to help you as you decide. Don't forget — we have flooring experts available to answer all your flooring questions, so don't hesitate to call us or make an appointment for a personalized consultation.


Ceramic or Porcelain
Ceramic and porcelain tiles are resilient, waterproof, and available in a wide variety of colors and designs. Porcelain absorbs the least amount of water, but they can both handle standing water (though we recommend drying your floors as soon as possible, of course.) These tiles also avoid absorbing germs and are easy to clean.

Ceramic and porcelain are seen as hard and cold bathroom flooring options, but radiant heating and soft, thick rugs add comfort. Ceramic and porcelain tiles can also be slippery when wet, but there are now textured options that mimic the feel of natural stone to reduce slip.


Natural stone offers many of the same benefits as ceramic and porcelain — it is resilient to wear, waterproof, and available as tiles, planks, or mosaics in a wide variety of colors and patterns.

Stone can also be slippery when wet, but professional installers know how to add grout patterns and finishes to reduce slip and promote safety. Natural stone often requires occasional sealant applications to maintain its finish and structural integrity. If you choose this material, you should prepare for periodic professional maintenance. Stone is also a natural, limited resource, meaning it's a luxurious finish with a luxury price tag.


Vinyl is the most cost-effective option, though the other materials may offer a greater return on investment in terms of longevity and resale value. However, vinyl has also been upgraded significantly over the years with the modernization of flooring manufacturing. As a result, there are many new types beyond the old sheet vinyl you may be familiar with, with luxury options that mimic the look of more expensive materials like wood and stone. Vinyl also offers more variety of colors and patterns than natural options.

WPC and SPC vinyl are great waterproof options for bathroom floors — they are rigidcore, meaning they are built to be durable, scratch-resistant, and waterproof. Luxury vinyl tile and plank are both very popular, but are water-resistant rather than waterproof.


What Is Trending In Bathroom Floors for 2023?
Some brand new, some classic and still loved, here are some stylish flooring trends that can help you add oomph to your powder room.


Nautical / Coastal
Nautical and coastal bathrooms are a classic choice that will never fade because they offer a great way to bring the outdoors inside. We simply find new ways to modernize and refresh the beloved favorite — bring this look up-to-date with Mediterranean-style floor tiles and live house plants.


Black and White Checkers
Horizontal, diagonal, vertical — whichever way you go, you can't go wrong with a black and white checkered bathroom floor. It's a classic and safe bet that lets you dip a toe into a simple-to-achieve patterned floor without going too far outside your comfort zone. This is another look that benefits from live house plants. They'll warm the stark black and white with natural colors to create a more inviting space.


Many consider marble to be the embodiment of luxury. A reigning classic since Roman times, it will never go out of style — especially among those who value opulence. Matching a marble bathroom floor to marble walls creates a bold look that can trend either traditional or modern, depending on the color and style of marble you choose. If you aren't interested in a traditional, classic look, pair your marble with wood and sleek white fixtures to create a modern Scandinavian design.


Mosaics and Statement Patterns
Make your bathroom floor a unique work of art with a custom mosaic. Hexagon tiles are ideal for creating a budget-friendly yet bespoke design that creates an immediate "wow" factor.

You can also create your own unique patterns by mixing patterned tiles with solid-colored ones. For example, a border of patterned tiles around a floor of mostly solid-color tiles, or vice versa — with tiles, whatever you can imagine, you can create. Statement tile patterns immediately elevate any space, allowing you extensive creativity. If you're new to styling your own designs, incorporating solid-color tiles with patterned ones lets you keep the design as simple as you like.


Give Your Bathroom Floor A Glow-Up with Floors USA
We have an incredible amount of flooring in stock and much more available through special order, so you are certain to find the right materials for your bathroom floor at Floors USA. Customer satisfaction is our number one priority, so our staff will work with you to ensure you are 100% satisfied with your purchase. Don't wait — we're emptying our warehouse of overstock and letting go of top-quality flooring from all the best manufacturers at prices you won't see anywhere else. Quantities are limited, so make an appointment or stop by today!